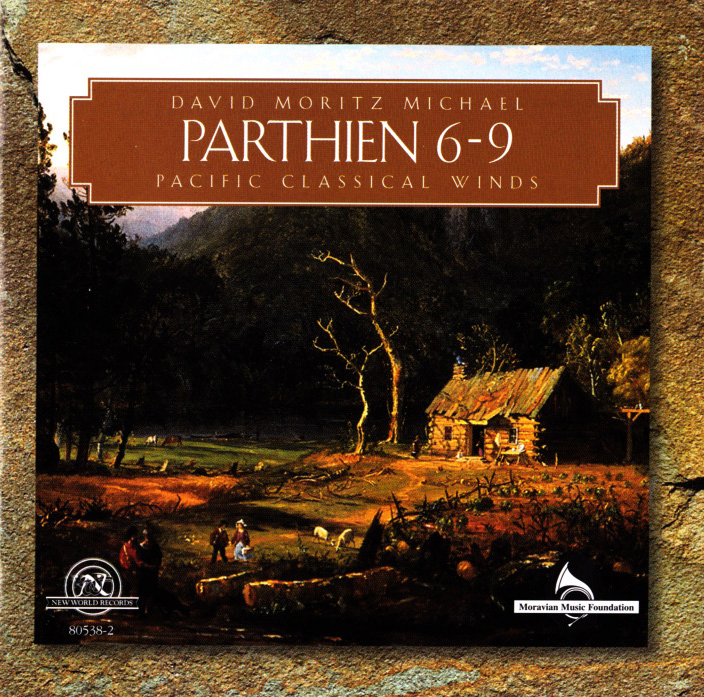 Product Description
Play: 1. to engage in recreational activity; to amuse or divert oneself; frolic; sport. 2. to perform on a musical instrument.
The woodwind Parthien of David Moritz Michael (1751-1827) convey delightfully both of these meanings. The works are technically challenging enough to interest both the capable amateur and the professional performer; and they are works containing humor and whimsy, even in their most serious moments, to engage the mind and heart of both performer and listener.
David Moritz Michael (1751-1827) was born in Germany, and became a member of the Moravian Church when he was thirty years old. He taught in the Moravian school at Niesky and came to America in 1795. His official church position was as a worker with the young men of the congregations in Nazareth and Bethlehem, PA, but his contributions to the musical life of the settlements was great.
Tracks:
Parthia 6
1. I Andante
2. II Allegro assai
3. III Andante poco adagio
4. IV Menuetto
5. V Rondo allegretto
Parthia 7
6. I Tempo March
7. II Andante
8. III Menuetto
9. IV Presto Parthia 8
10. I Allegro
11. II Andante
12. III Menuetto
13. IV Allegro assai
Parthia 9
14. I Allegro
15. II Andante
16. III Menuet
17. IV Allegro